How To Add Glam To Your Room With Metallics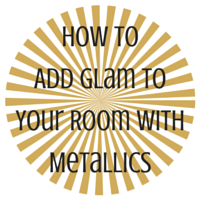 Is your room in need of a punch?
Add some metallics to give it a big kick and make it ultra glam.  The cool thing about metallics is that you can incorporate them into any design style and there's just something about brass and gold that just adds a touch of sophistication to any room.  It's just a win - win!
If you're looking for a dash of sophistication, then you should for sure check out these items.  I bet they'll be the answer that you've been looking for when it comes to that dreaded question of how to add glam to your room with metallics.
I'm so in love with this pendant, it just screams glam and sophistication especially with that touch of black that it comes with.  I can so see it as lighting in a kitchen.  Now deer heads are all the rave now and you can use them on a gallery wall or even to hang your jewelry.  The point is that it's a versatile piece. Now this bookcase will stop people in their tracks.  It is bangin'!  I love how you can buy it as seen here or in pieces, so if you have a small space, you won't feel like this bad boy can't be yours. This retro phone is super cute especially if you're into vintage design.  It does cheat a bit because the buttons are actually push buttons even though they don't look like they are.  L-O-V-E  I-T!  Now let's not forget that home office.  Check out this cute gold stapler.  Now I couldn't let you go without giving you a chic coffee table to drool over.  ok now stop drooling! lol
There you have it!
Some metallic home decor items to help you put that problem to rest.  You know the one about how to add glam to your room with metallics
Still don't think that you can pull this off on your own and need some one-on-one decorating help?  Then hit me up!