How Can I Spruce Up My Room For Spring?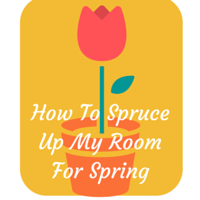 The sun is finally out here in NYC and the snow has almost melted! halleluya, praise Jesus!!!Lord, how I was soooo tired of this damn snow (can't you tell?).  I have never been so excited to talk about Spring and with that also share with you some colorful finds.Spring is one of my favorite seasons.  You know, not too cold, not too hot, just perfect weather especially for my curls.Anyways, back to the post.Have you ever thought to yourself, "self, it's Spring.  I really need to spruce things up around here, but then you also thought, how can I spruce up my room for Spring, I don't have a clue how to get started?"  With accessories that is my friend!  Not sure you can pull it off?  Check out my accessorizing tips here.Now there's no reason to go out there and spend all of this moolah redecorating your room when all your room needs a spruce up with the help of some accessories.  And let me tell you, bringing in a new accessory into your room will make it come alive and look spankin' brand new.How about jazzin' up your dresser with new knobs?  How about adding a unique bookcase to your space and accessorizing the shit out of it for a real focal point?  Change up your curtains, add a colorful rug, you get my drift...change it up!So take a look at some of these colorful pieces that I picked out.  Now they may or may not be your style, but they are there to get your creative juices going and give you some ideas on how you can incorporate some accessories into your space.So onto the colorful list shall we?
Bowls $14.95 each //  Duvet $129.95 //  Bookcase $379 //  Curtain $23.74 //  Pillow $19.99 //  Chair $799 // Rug $224 //  Curtain $19.99 //  Stencil $39.95 //  Knob $10
There you have it!
So no more talk about "How Can I Spruce Up My Room missy? okay?If you're still feeling lost about creating the room of your dreams?  Head on over here for one-on-one help.  I'd love to hang with you and help you out.